Proven VEITH quality for your field of application
For decades, the VEITH company has been a reliable partner for mold making. From standard parts to the production of high-precision special parts, we offer you the right products. In particular, we have created an ideal environment for the production of mold cores, pipette cores and sealing needles. We are able to produce tolerances in the µ-range reproducibly. The high demands of our customers on the quality of the surface, shape and position are met by our qualified employees on state-of-the-art production equipment. 
Permanent quality control on high-precision measuring machines, as well as individual packaging solutions guarantee our customers a high degree of precision and safety.
µ-accurate: exact shape and position tolerance
Polished surface
interchangeable
We have years of experience in the production of high-precision mold cores according to customer drawings. We manufacture your drawing parts with selected grinding processes in a process-safe manner while maintaining the highest surface qualities and the tightest form, dimensional and positional tolerances. Depending on customer requirements, we process materials such as WS, HWS, HSS, hard metals or other special materials.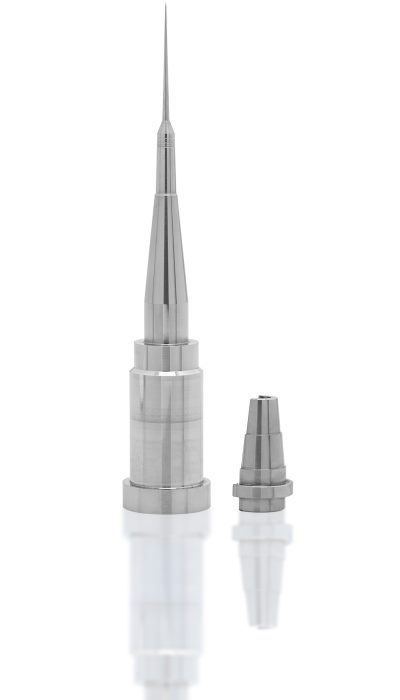 Ejector pins and sleeves
Ejector pins according to DIN ISO 6751 and 8694
Ejector sleeves according to DIN ISO 9405
In quenched and tempered, hardened and nitrided design
Date stamp
Dater in various designs
Standard + short version, with and without latching function
Detent function for precise adjustment and increased resistance to twisting
Without height adjustment 
Thread for mounting in the mold 
Adjustable insert can be changed from the mold side
Engraving mirror image, recessed
Mold cores and accessories
Production with selected grinding processes
Highest surface quality as well as form, dimension and position tolerances
WS, HWS, HSS, carbide and special materials
Ejector grease
Chemically inert fluorocarbon grease
Performance range: temperature application -30°C to +300°C
Silicone-free
Low coefficient of friction
Resistant to water and aggressive media
Extremely adhesive
Neutral towards most plastics 
Clean in application 
High number of shots without relubrication of the sliding surfaces
Application: Especially suitable for the lubrication of ejector pins, folding units, sliders, latch pulls, etc. with low tolerances in the plastic injection molding industry.
High thermal and oxidative stability
Food safe: use in the food and beverage industry where unintentional contact with the food is possible
To Flyer